29 Nov
I'm not generally anti-Apple — I admire much of what they have done in making high-quality products and still do — but today I had problems with Safari for Windows 3.0.x crashing on me, so I figured it was time to upgrade to the latest. So, I Googled for it and came to the download page: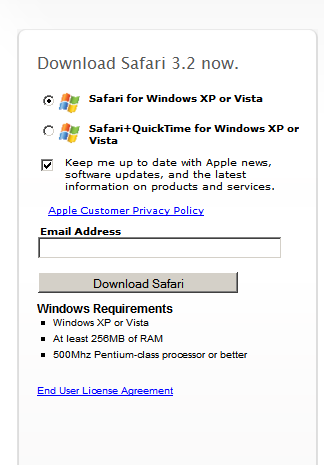 Note the choices. First, email is checked off by default, whereas an honorable company would leave it *unchecked*. Secondly, there are two choices, plain Safari and Safari with QuickTime. Now, plain Safari is what is checked, and that's good, since why in the hell do I want or need to download and install an update to QuickTime just to get Safari? At least it's not bundled with iTunes as the QuickTime download once was.
OK, not too annoying, just uncheck the email and get on with the download. Wait! What's this? The installer name is "SafariQuickTimeSetup.exe" — better cancel the setup and try again, since I must have accidentally failed to select the right radio button in the option group. OK, try it again, and, yes, the file for the *non*-QuickTime installer is definitely named "SafariQuickTimeSetup.exe." Oh, well, must be some annoying thing they do, and I'd guess the other installer is different (or maybe the files have a different source but are given the same name on download. Or something).
Curious now, I start the download of the QT version and go on with the install from the original file. Well! Turns out the so-called non-QT installer *does* install QuickTime. And when I do a file compare of the two installers: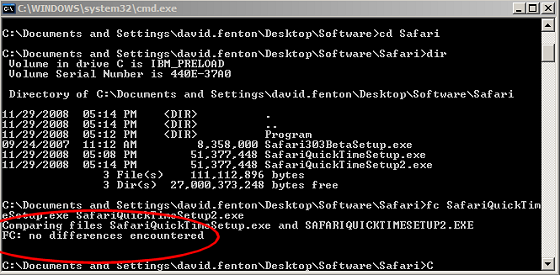 well, what a shock — a file compare of the two files shows that they are IDENTICAL.
To add insult to injury, the installer puts a QuickTime link and a Safari link in my Quick Launch bar on my Windows TaskBar — the installer should have asked for permission to do that, not just do it by default. Who the fuck needs a shortcut to QuickTime anywhere on their computer? When does *anyone* launch the content viewer instead of letting the OS launch the appropriate app according to the content you want to view?
I cannot *stand* this kind of behavior. First, I end up not getting what I asked for and then it installs things I didn't want in the first place (and thought I was avoiding). And didn't give me any choices about those things (not that at this point I'd even trust it to honor those choices…).
Last of all, making things worse still, I suspected that the installer probably put a system tray (MS keeps telling us that it's not the "system tray" but the "notification area," but I don't give a crap) icon launcher in the Run line in my System Registry, so I fire up RegEdit and, yep, there it is, in all it's glory — not only does Apple think I need a useless icon in my Quick Launch toolbar, but I also need another useless icon in the system tray. That is, I need TWO USELESS ICONS in my TaskBar from which I can launch QuickTime, but never ever *will*.
What is *wrong* with these people? Don't they use computers? Don't they recognize the pollution of the system tray and the Quick Launch toolbar that is endemic, with program after program installing their icons there for no good purpose? Well, no good purpose for the user of the computer — it's an advertisement for the software, but that doesn't do *me* any good.
To be fair to Apple, they are certainly not the only ones sticking icons where I don't want them. But I must say I've never seen such a blatant overriding of the end users' wants and needs as a download page that gives you the same installer regardless of which you choose. Assuming this is not simply a coding error on the download page, that kind of autocratic approach is exactly why long-time Windows users like me can never ever recommend Apple products — because Apple lies to you, telling you you're in control and then doing whatever it pleases in the background.